Book
A Republican Revolution: Ideology and Politics in Pennsylvania, 1776–1790
(1976 Ph.D. dissertation with a new introduction and index; in the series Outstanding Studies in Early American History. New York: Garland Publishing, 1989).
Edited Volumes
William B. Willcox, Claude A. Lopez, eds., The Papers of Benjamin Franklin
(New Haven: Yale University Press), Volume 21, 1774–1775 (1978), Volume 22, 1775–1776 (1982), Volume 23, 1776–1777 (1983), Volume 24, 1777 (1984), Volume 25, 1777–1778 (1986), Volume 26, 1778 (1987), Volume 27, 1778 (1988). Assistant Editor, Associate Editor.
The Public Records of the State of Connecticut
(Hartford: Connecticut State Library and Office of the State Historian), Volume XIII, 1806–1807 (Co-Editor with Dorothy Ann Lipson, 1989); Volume XIV, 1808–1809 (Editor in Chief for this and subsequent volumes, 1990); Volume XV, 1810–1811 (1991); Volume XVI, 1812–1813 (1997); Volume XVII, 1814–1815 (2000); Volume XVIII, 1816–1817 (2007); Volume XIX, 1818 (2007); Volume XX, 1819–1820 (2012); Volume XXI, 1821–1822 (2015); Volume XXII, 1823–1824 (2018).
Historical Resources in South Central Connecticut: A Guide to Manuscript Repositories
(Co-Editor with Diane E. Kaplan and Floyd M. Shumway; New Haven, 1990).
Thurston Greene, The Language of the Constitution: A Sourcebook and Guide
(New York: Greenwood Press, 1991). Managing Editor.
Articles and Chapters
"Debating the Federal Constitution: A Review Essay," Documentary Editing, VII (1985).
"The Early Community, 1640–1820," in Greenwich: An Illustrated History (ed. Robert Atwan; Greenwich, Conn.: Historical Society of  the Town of Greenwich & Greenwich Time, 1990).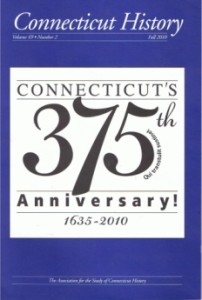 "The Public Records Project and the Constitution of 1818," Connecticut Supreme Court History, II (2007).
"Eleven Fundamental Documents in Connecticut History," Connecticut History, 49 (2010). Co-authored with Christopher Collier for the issue for Connecticut's 375th Anniversary.
Contributions to Reference Works
James McLachlan, Princetonians, 1748–1768: A Biographical Dictionary (Princeton: Princeton University Press, 1976). Research Assistant, Contributor. Article on Joseph Reed.
James A. Levernier and Douglas R. Wilmes, eds., American Writers Before 1800 (Westport, Conn.: Greenwood Press, 1984). Contributor. Articles on Benjamin Franklin Bache, Thomas Cooper, George Duffield, Peter Folger, Stephen Johnson, Samuel Niles, George Richards Minot, James Parker, and Pelatiah Webster.
John Mack Faragher, ed. The Encyclopedia of Colonial and Revolutionary America (New York: Facts on File, 1990). Contributed 29 entries, including the following signed articles: "Articles of Confederation," "Confederation Congress," "Continental Association," "First Continental Congress," "Second Continental Congress," "Benjamin Franklin," "Alexander Hamilton," "Loyalists," "James Madison," "Robert Morris," "Republicanism," and "James Wilson."
Educational Evaluation Report
Wilsonia Cherry, William Craig Rice, Douglas M. Arnold, et al, Exploring the Human Experience: Summer Seminars and Institutes for College and University Faculty, An Evaluation, 1997–2011 (National Endowment for the Humanities, 2017).
Newspaper Articles
"With the Treaty Signed, America Moved Forward," Philadelphia Inquirer, September 11, 1983.
"350 Years Ago in Greenwich," and "Greenwich: The Early Years," Greenwich Time, July 1, 1990.
Book Reviews
in The William and Mary Quarterly, Journal of American History, Journal of the Early Republic, Political Science Quarterly, Computers in the Humanities, The Eighteenth Century, Pennsylvania Magazine of History and Biography, Connecticut Historical Society Bulletin.
Awards
Prizes Awarded to The Public Records of the State of Connecticut:
The Homer D. Babbidge, Jr., Award for 2008 from the Association for the Study of Connecticut History for the best monograph on a significant aspect of Connecticut's history: The Public Records of the State of Connecticut, Volumes XVIII–XIX.
The Betty M. Linsley Award for 2014 from the Association for the Study of Connecticut History for the best work on a significant aspect of Connecticut's history published by, for, or on behalf of a Connecticut historical society or organization: The Public Records of the State of Connecticut, Volume XX.
---
The Association for the Study of Connecticut History [http://asch-cthistory.org/] is the publisher of the Connecticut History Review and sponsor of the Babbidge and Linsley Awards.